Visual Learning or Spatial learning refers to the style of education involving more interactive teaching aids like pictures, graphs, charts, and even tutorial videos.  These have a clear advantage over the traditional methods of imparting education.
Studies have shown that visual aids not only enable more interaction but also trigger emotions within the human brain, which further boost retention. Thus, visual learning helps students learn better and retain more efficiently and for a longer period of time.
The visual style of imparting education or even personal learning can prove to be far more efficient and productive as compared to the traditional methods, owing to a number of factors like:
A long-lasting impression
Various scientific studies have shown that images are registered directly by our long term memory whereas words only make an impression on short term memory cells, thereby enabling retentivity for a much longer period of time.
Not only that but images and visuals also encourage more interaction from the student's side, thereby encouraging a more inquisitive approach towards a subject.
Improves Communication
Visual learning allows for a much quicker and better exchange of information as compared to the traditional method of words and notes because a lot more information can be exchanged with lesser effort. It is said that humans process a visual scene in less than 1/10th of a second.
For example, sharing stats about a certain topic is much easier with the help of graph charts than simple numerical figures. Not only do they take less time to be imparted but also encourage better interaction from both sides of the conversation.
Read: How Online Courses help in Board Exam Preparation?
Aids Comprehension
Visual representation helps students understand concepts more easily and in a much better manner. A person can grasp concepts far more easily when presented in the form of images and videos instead of verbal methods.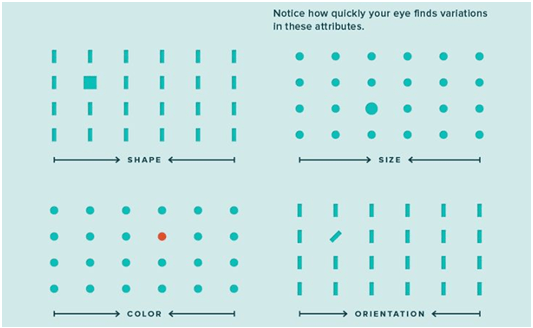 The classic example is the time you will take to finish reading this entire paragraph as compared to the time taken to understand what the image above represents.
Read: How To Go From Rote Learning To Involved Learning
Stimulates Emotions For A Better Understanding Of Concepts
Images, videos, and other visual creatives trigger various emotions within an individual's psyche, thereby leaving a much longer lasting impression. It is a well-known fact that cognitive memory and emotions play a bigger role in memory retention than words or other verbal methods of imparting knowledge.
Captivating images, interactive videos help students relate more to the topic and thus encourage enhanced memory retention.
Not just for normal day to day topics, students are also relying on visual learning methods for the preparation of competitive exams like NEET and JEE. Engaging video lectures with graphs, illustrations and 3D animations help them quickly and easily understand different PCMB concepts for exam preparation.
Aakash iTutor is one of the platforms helping students get the maximum benefit by learning through visual mediums. Students can quickly and easily understand difficult topics by watching recorded video lectures by experienced faculty.
Thus, the use of visual aids and a more interactive approach towards imparting education is indeed the future. The increasing number of online classes and their popularity across streams stands in testimony to the efficiency of visual learning and the undeniable fact that online learning, along with other methods of visual learning, is here to stay!